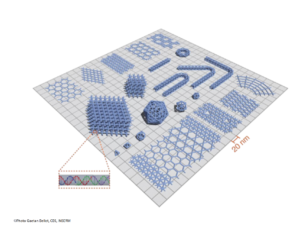 The BioHealth (quantitative biology research themes) and MIPS research departments of MUSE, as well as the LabEx NUMEV, have the pleasure to invite you to the second half-day of « BioPhysics Initiatives » on Friday, July 9, 2021 with presentations about nanomaterials for biology.
A « crawling ideas » session is also proposed, where you have the opportunity to rapidly introduce a topic or a question related to nanomaterials for biology, with one or two slides.
Registration is free and mandatory.
Login credentials will be sent a few days before the event to the email address indicated during your registration.
PROGRAMME
1:45PM – 2PM : INTRODUCTION OF THE HALF-DAY #2
2PM – 2:25PM : "GRAPHENE FOR BIOLOGY: HIGH-RESOLUTION LOCALIZATION OF BIOMOLECULES" – P. Landois, S. Contreras, L2C, L. Costa, CBS
2:25PM – 2:50PM : "3D SELF-ASSEMBLY USING DNA AS PROGRAMMABLE MOLECULES" – G. Bellot, CBS
2:50PM – 3:15PM :"POROUS SILICON AND PERSISTANT LUMINESCENCE NANOPARTICLES FOR NANOMEDECINE" – F. Cunin, ICGM
3:15PM – 3:25PM : BREAK
3:25PM – 3:50PM : "MULTIFUNCTIONAL NANOPLATEFORMS FOR LOCAL THERMOSENSING IN BIOLOGICAL ENVIRONMENTS" – R. Le Parc, J-L. Bantignies, L2C
3:50PM – 4:25PM : "CRAWLING IDEAS"
4:25PM – 4:30PM : CONCLUSION