SATIS: Saliva Aerosolization, Transport and viral Infection by Speech
Principal Investigators: Christian Ligoure from L2C – Laboratoire Charles Coulomb & Manouk Abkarian from CBS – Centre de Biologie Structurale

Research on the transmission of SARS-CoV-2 has evidenced the crucial role played by aerosols. However, establishing their characteristics, their transport and their infectivity once inhaled by a susceptible host is the missing link between quantification of virus copies in body fluids and assessment of transmission risks.
The SATIS consortium focuses on asymptomatic spreading of the disease, a stage where breathing and most of all speaking are the main mechanisms of transmission. We develop a multidisciplinary approach gathering researchers in biophysics, fluid mechanics, thermomechanics, human movement, biology and phonetics to decipher the link between the different stages of the transmission chain, from the infected host to the susceptible individual.
We aim to:
1) Improve the characterization of aerosols at exhalation and in speech in particular,
2) Clarify their transport in realistic contexts of social interactions with the account of realistic thermal effects and air movements associated with human motion,
3) Measure the infectivity of virions as a function of their transport history, which modifies the physicochemical conditions the virus faces in the aerosol.
A major originality of the project is to gather these different aspects relevant to airborne transmission in a unique project, which will allow unprecedented exchanges between different disciplines working on SARS-CoV-2 and COVID-19. SATIS aims at making Montpellier a major player of the research on airborne disease transmission, which continues to be a huge challenge for humanity in the COVID-19 crisis, and will most probably be involved in the most dangerous pandemics to come.
The SATIS Consortium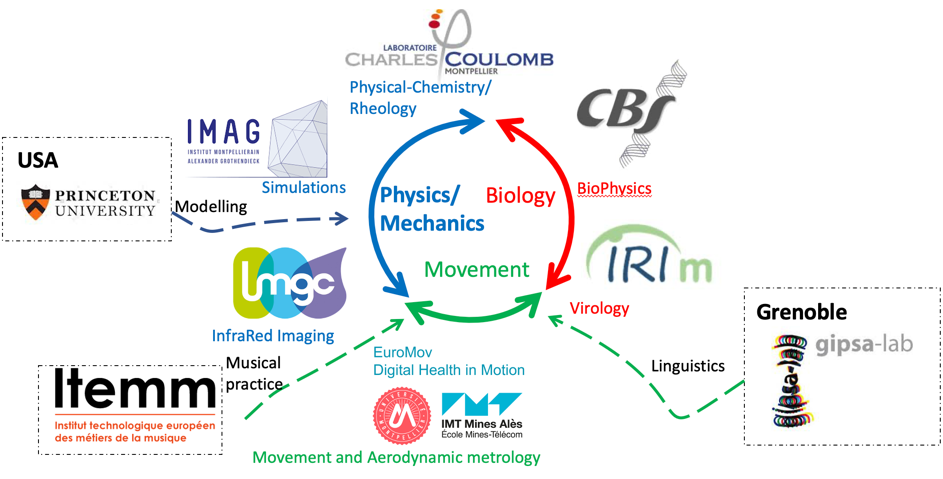 Participating labs in Montpellier
Christian Ligoure
Ti Phou
Jean-Marc Fromental
Tristan Xabada, PhD (co direction L2C/CBS)
Manouk Abkarian
Ashley Nord
Francesco Pedaci
Patrice Dosset
Tristan Xabada, PhD (co direction L2C/CBS)
Raphaël Gaudin
Barbara Gorda
Simon Mendez
Sébastien Trombert
Ogüzhan Kaplan
Hervé Louche
Jonathan Barés
Pierre Slangen
Stéphane Perrey
Julien Lagarde
Gérard Dray